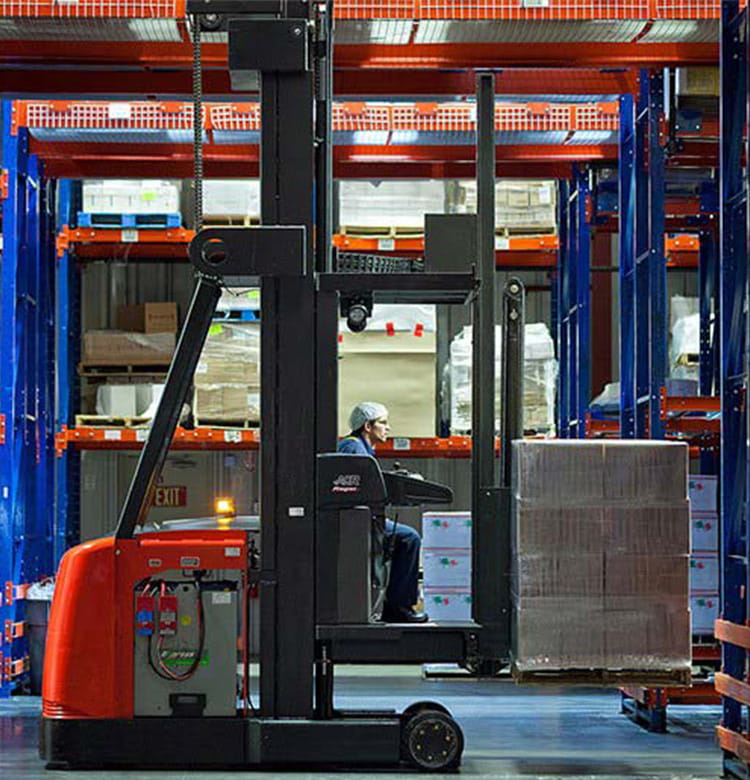 Take Advantage of These Incredible Factory Incentives

---
Now through December 31st, 2019, we're inviting select customers to participate in our Raymond Swing-Reach promotional event. Maximize your usable warehouse space with turret trucks that have the potential to triple pallet capacity within your existing warehouse footprint. The Raymond Swing-Reach truck is specifically manufactured to address space constraints while providing significant cost savings in your operation. To participate, choose from one of these three options:

---
Offer valid now through 12/31/19 and is exclusive to existing Raymond customers by invite only. Offer can not be combined with any other Raymond discount program.

All incentives are valid towards the purchase of (1) new Raymond 9600 or 9700 Swing-Reach lift truck. Factory incentives are mutually exclusive and can not be combined. Customers participating in the Raymond Leasing Program are subject to credit approval.




Raymond Swing-Reach Forklifts Are Built to Perform

---
ACR System

Raymond Swing-Reach trucks deliver quicker acceleration and electronic braking, faster lift and lower speeds, and smoother direction changes for more efficient load handling and movement in very narrow aisles.

Proven Energy Efficiency

Third-party testing demonstrated that the Raymond 9600 and 9700 Swing-Reach trucks use 40% less energy than competing models, providing a considerable energy cost savings and extending battery life through a shift.

Regenerative Lowering

The combination of superior control and AC technology results in fast, smoother performance and creates greater power when lowering loads; this is done by returning 10% of amps back to the battery for reduced energy consumption and increased uptime.
Load Control

Operators will have better control of the load and be more efficient with fine positioning and control of the lift, travel and load-handling functions of Raymond Swing-Reach trucks.

Three Wheel Design

The Swing-Reach offers stability and operator confidence at height. Increased stability without the need for additional counterweight keeps your Raymond turret truck in the aisle working instead of at the battery charger.

Wire Guidance and intelliguide

Increase truck speed, storage capacity, and operator performance without the need for adjustment. Raymond Swing-Reach trucks engage the guide wire quickly and easily, and the no-tune intelliguide system offers excellent tracking and stability.
Comfortable Operator Compartment

Roominess is achieved by placing the operator between the mast uprights. The low, 16-inch step height allows easier entry into the operator compartment, and the light and fan package provides efficient lighting and air circulation at higher heights.

Display and Controls

The vehicle navigation assistant display allows operators to easily view important information about the truck and load. An intuitive operator interface and control handles allow effortless, simultaneous control of truck functions.

Fully Adjustable Contoured Seat

Reduces much of the stress on operators that can lead to operator fatigue. Along with armrests and lumbar support, the control center adapts to each operator's preferences.The swivel seat provides excellent visibility through the open view mast when traveling in the tractor first direction.
Ease of Access

The durable cover allows for convenient access to all components for service, and the intuitive controls and layout of components allow for ease of service and reduced time to repair.

Fewer Components

The ACR System provides ease of maintenance with fewer components to service and replace over competing AC motors.

Parts Commonality

Raymond Swing-Reach turret trucks share parts commonality with our reach trucks and order pickers, to reduce parts stocking requirements and further simplify service.
Auxiliary Mast

Can be raised to the most ergonomically advantageous height.

Three Driving Positions

Operate standing, seated or leaning for operator comfort and postural relief throughout the course of a shift. In case picking applications, the control arms and sidegates can be raised to create a generous picking window.

Aisle and Load Widths

The 9600 turret truck can be outfitted to accommodate a wide range of aisle widths and oversized loads – up to 48" deep by 108" wide, in aisles as narrow as 66".
In-Aisle Detection System (IADS)

The IADS is an application-specific feature that automatically alerts the operator via the display and sounds an audible alarm when objects are detected in the path of the truck, which then decelerates to a complete stop.

Custom zoning and Positioning (ZaP) ensures more reliable, repeatable truck operation via automatically controlled truck functions, allowing your operators to better focus on their surroundings and the task at hand.

Pallet Handling Unit Platform Barrier

The pallet handling unit platform barrier may be added to our Swing-Reach trucks to enhance your operators' security at elevated heights. The barrier comes in two different configurations, wide or narrow barrier.

Cold Storage Conditioning

Our cold-storage conditioning package protects your trucks' sensitive control systems and assures peak performance in refrigerated warehouses and freezer applications.

Intelliguide System

The Intelliguide system automatically steers the Swing-Reach in wire-guided applications, allowing your operators to better concentrate on picking orders.

Extended Load Handling

Place, pick, and move a variety of load sizes—up to 48" deep by 108" wide in aisles as narrow as 68"—with the extended load handling option.

Sidegate Power Disconnect Switch

If you prefer the flip-down sidegate to always be lowered during operation, we can equip this feature to prevent lift, lower, travel, and load-handling when the sidegate is not in the lowered position.

End of Aisle Slowdown

Activated by magnets we bury in your flooring, this valuable safety feature reduces your trucks' speed at aisle end, in effect reinforcing your operators to stop prior to exiting an aisle.
Cold Storage

Raymond maintains its own cold storage-test facility to replicate the harsh conditions of refrigerated warehouses, blast freezers, and other cold-storage facilities, allowing them to test their trucks' robust systems in extreme cycles of freezing and thawing. Our Swing-Reach trucks can be equipped with cold-storage conditioning and heated cab options for enhanced operator comfort in cold-storage warehouses.

High-Level Order Picking

Boost throughput and pick rates in your operations with our reliable, high-performance Swing-Reach turret trucks that allow you to lift greater capacities to higher heights for increased operator productivity. Our Swing-Reach trucks are completely customizable too, which means you can select the exact lift heights and performance packages you need to meet your very-narrow-aisle and order-picking requirements.

UL EE

The Raymond 9600 Swing-Reach turret truck complies with Underwriters Laboratories (UL) 583. Raymond Type E and EE trucks are designed and manufactured to operate in classified locations, as defined in NFPA 505. Type E and EE products are tested and certified by Underwriters Laboratories (UL).

Very Narrow Aisle

With over 200 combinations of heights, features, and capacities, our selection of very-narrow-aisle forklifts and Raymond Swing-Reach turret trucks offers superior versatility and effective solutions within your facility, helping to greatly improve the utilization of your existing, valuable warehouse space.
---

Swing-Reach Lift Trucks for New York, Pennsylvania, Massachusetts, Vermont & West Virginia